CAPE CANAVERAL, Fla. — SpaceX successfully launched an advanced GPS satellite for the U.S. Space Force on Thursday (June 17), marking the 19th launch of the year here on the Space Coast. 
One of the company's two-stage Falcon 9 rockets blasted off from Space Launch Complex 40 at Cape Canaveral Air Force Station here at 12:09 p.m. EST (1409 GMT), carrying the GPS III SV05 navigation satellite to orbit. Nine minutes later, the rocket's first stage touched down on the deck of "Just Read the Instructions," one of SpaceX's two drone ships. 
"What a beautiful view of the first stage landing," Youmei Zhou, a SpaceX propulsion engineer, said during the company's live launch commentary.
The GPS III SV05 satellite mission is the second to launch so far this month for SpaceX, following the launch of a broadband satellite for Sirius XM on June 6. 
Related: The U.S. GPS satellite network explained
Image 1 of 5
Image 2 of 5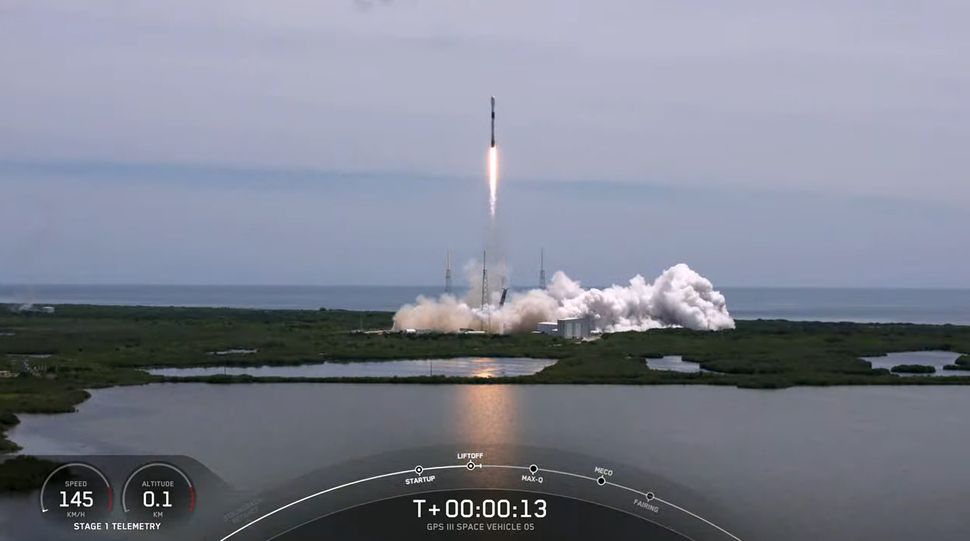 Image 3 of 5
Image 4 of 5
Image 5 of 5
It was nothing but blue skies over the launch pad, and onlookers were treated to a gorgeous view as the rocket climbed to orbit. 
Today's flight marks the fourth GPS satellite delivery by SpaceX for the U.S. military. Three previous advanced GPS III missions also launched on Falcon 9 rockets, including two missions last year. Another of the satellites launched in August 2019 on the United Launch Alliance's final flight of the Delta IV Medium rocket. 
"If you've ever used your phone's mapping service or retrieved a location via a pin drop, you've used a satellite in this system," Zhou said. 
The U.S. military plans to launch a total of 10 upgraded GPS satellites, as part of an effort to replace aging members of its current constellation. SpaceX has also secured a contract to launch the next GPS III mission as well, which is planned for sometime next year.
Built by Lockheed Martin in Colorado, the GPS III-SV05 satellite, named after Neil Armstrong, is the fifth member of an upgraded generation of GPS navigation spacecraft that is designed to beam down higher-power signals that are more resilient to jamming and boast additional broadcast frequencies to make the GPS network more compatible with other similar constellations, Lockheed representatives have said.
Related: Launch photos! SpaceX Falcon 9 rocket soars with 1st GPS III navigation satellite
Falcon's fury 
The 227-foot-tall (70 meters) Falcon 9 is SpaceX's workhorse rocket and boasts more than 1.5 million pounds of thrust at liftoff. Today's mission featured a first for the Space Force: flying a payload on a used rocket. 
Last year, the agency gave SpaceX the green light to fly its payloads on refurbished rockets. That decision followed on the heels of another recent announcement to allow SpaceX to recover the rocket's first stage during national security missions — something that was previously not allowed.
The next two GPS missions, which are already scheduled to fly on SpaceX rockets sometime next year, will now launch atop refurbished rockets.
All of this is great news for SpaceX, as the company has been relying heavily on its fleet of veteran rockets, with many Falcon 9 first stages having racked up five or more flights each. 
Out of 19 missions so far this year, only one has featured a brand new Falcon 9; the rest were on flight-proven boosters.
It's also great news for Space Force and taxpayers as flying on reused rockets translates to a savings of nearly $53 million across the two flights (GPS III-SV05 and GPS III-SV06), Space Force officials said.
Honoring the past  
The military has given nicknames to each of the upgraded GPS satellites, naming them after famous explorers. The satellite that launched today was given the moniker "Neil Armstrong" after the NASA astronaut who made history as the first person to step foot on the moon. 
Previous satellites have been named "Vespucci" and "Magellan" in honor of…


Read More:SpaceX launches advanced GPS satellite for US Space Force, sticks rocket landing at