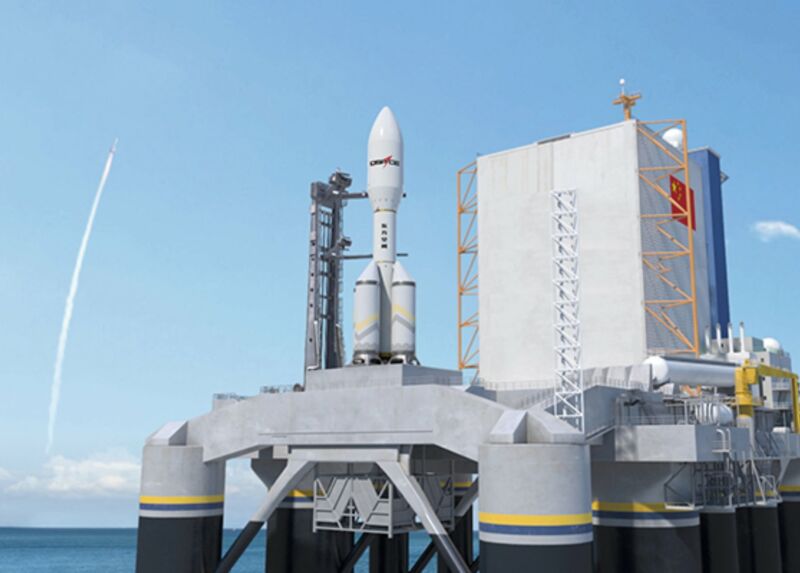 Welcome to Edition 4.02 of the Rocket Report! This week there's news about the space race between two rocket billionaires, Jeff Bezos and Richard Branson, and still more news about Branson's other space company. Thanks for reading and contributing.
As always, we welcome reader submissions, and if you don't want to miss an issue, please subscribe using the box below (the form will not appear on AMP-enabled versions of the site). Each report will include information on small-, medium-, and heavy-lift rockets as well as a quick look ahead at the next three launches on the calendar.

Bezos going to space, but will Branson beat him? Amazon founder Jeff Bezos said on Monday he would fly on the first human spaceflight of his company's New Shepard spacecraft. This mission will launch from Blue Origin's spaceport in West Texas on July 20, which is the anniversary of the Apollo 11 lunar landing in 1969. With this timeline, Bezos seemed almost certain to get to orbit before his suborbital` space-tourism rival Sir Richard Branson, whose flight was scheduled for later this summer.
The plot thickens! … However, according to a report by Doug Messier on his Parabolic Arc website, "Virgin Galactic is working on a plan to send Branson on a suborbital flight aboard the VSS Unity SpaceShipTwo rocket plane over the July 4 holiday weekend." This would beat Bezos by a couple of weeks. Later, given a chance to do so, Virgin Galactic did not refute this report of an accelerated timeline for Sir Richard. The report said only that the company was still studying its next potential launch date. A Thursday email from Virgin Galactic to the company's customers was also fairly ambiguous. (submitted by Ken the Bin)
Northrop receives contract to sustain Minuteman III missile. The Minuteman III intercontinental ballistic missile has been in service for five decades, and it will remain so for a significant time. Northrop Grumman said Thursday it has been awarded a $287 million base contract by the US Air Force to provide engineering services to assist in sustaining the Minuteman III missile system.
Part of the nuclear triad … The company said this Propulsion Subsystem Support Contract 2.0, awarded last month, has a contract ceiling of $2.3 billion over 18.5 years. Originally manufactured in 1970, the three-stage solid-fuel Minuteman III rocket has undergone multiple refurbishments to ensure its viability. The Minuteman III is capable of delivering thermonuclear weapons at distances of greater than 13,000 km. The Air Force periodically test fires these rockets from Vandenberg Air Force Base, without warheads attached.
Virgin Orbit targets late June for next launch. The company said it has shipped its LauncherOne rocket to Mojave Air and Space Port, where the rocket is now comfortably mated to Cosmic Girl's left wing. Although tests are ongoing, Virgin Orbit said it is targeting the last week of June for the launch. This represents a relatively quick turnaround from LauncherOne's first successful flight in January.
For all to see this time … On this flight, the air-launched rocket will seek to deliver a total of seven spacecraft into orbit from the Department of Defense Space Test Program, SatRevolution, and the Royal Netherlands Air Force. During the January mission, the company had a password-protected webcast, but this time around, it plans to put its first public "official mission livestream" on YouTube. (submitted by Ken the Bin)
Astra to acquire Apollo Fusion. California-based rocket company Astra will acquire Apollo Fusion, a company developing electric propulsion systems for spacecraft, as part of its effort to create vertically integrated space systems.
Astra is purchasing Apollo Fusion for $30 million in stock and $20 million in cash in a deal announced Monday, SpaceNews reports. The deal includes an additional $95 million in earn-out incentives.
Have to start with propulsion … Chris Kemp, chief executive of Astra, told the publication that Apollo Fusion's thrusters fill a technology gap for those future satellites. "What this is about is adding a really core piece of technology to Astra's platform," he said. "It'll unlock a whole new set of customer opportunities for us. The next puzzle piece is the vertically integrated spacecraft. So, as we started to look at that, what are the core technologies that drive that?" he said. The engine seems to have been the obvious answer. (submitted by EllPeaTea and Ken the…


Read More:Rocket Report: Vandals spray-paint Buran; China to launch first crew in 4 years